Gorakhpur | It was a treat to watch Uttar Pradesh Chief Minister Yogi Adityantah holding a leopard cub in his arms and feeding it bottled milk during his visit to the Shaheed Ashfaq Ullah Khan Zoological Park in Gorakhpur on Wednesday afternoon. The Chief Minister visited the Park on the occasion of National Dolphin Day being held as part of Wild Animals Week 2022.
In minutes, the Chief Minister made friends with the seemingly reluctant cub as he tolerated all its tantrums smilingly, but insisted quietly on feeding it. The Chief Minister named the two leopard cubs, one of which was rescued three months ago as Bhavani and Chandi. The Chief Minister also interacted with Zoo officials, including doctors, to enquire about the health of the animals.
Speaking on the occasion, the CM said that animals are friendly with him because they have this unique capacity to understand who can harm them, and who won't. He said that vulture conservation centres will be built in Maharajganj, Chitrakoot and Gorakhpur as they are on the verge of extinction. The life cycle must follow the laws of nature, he remarked, emphasising the need for people to behave responsibly towards nature and protection of animals.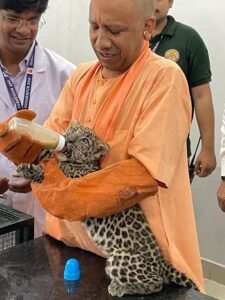 The CM added further, "In the Ramayana there is Aranya Kand, which encapsulates the entire story of the epic. Monkeys, bears, rivers, trees and stones become Lord Rama's friend, when he is clueless about the whereabouts of Maa Sita after she is abducted by Ravana."
The Chief Minister also honoured several forest officers on the occasion for their commendable work in saving and conserving wild animals. He talked about his experience with 15-month-old tigress Gita that was released to an enclosure from the cage and the rhinos brought from Assam which were rescued from Maharajganj.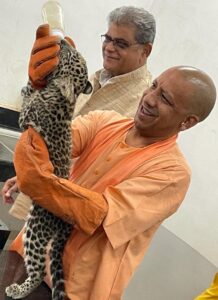 Efforts on to start UP's first night safari in Lucknow
Referring to the efforts of the state government regarding wildlife conservation and eco-tourism, CM Yogi said that the process of starting the state's first night safari in Lucknow is being expedited. "It will promote eco-tourism, inculcating a sense of respect for wildlife, along with providing entertainment", he said, adding that the knowledge of children will also increase.
Animals are friendly with me because they know I can't harm them: CM
Efforts on to start UP's first night safari in Lucknow, says CM
CM Yogi said that the government has already announced creation of a Tiger Reserve at Ranipur in Chitrakoot where Lord Rama spent most of his time in exile while proposals related to eco-tourism have been approved in Bijnor and Ramnagar. Besides, the government is setting up rescue centres for wildlife at places like Maharajganj, Meerut, Chitrakoot, Pilibhit etc.
Conservation of aquatic life being done through Namami Gange Project
Chief Minister Yogi Adityanath said that the government is also sensitive about the conservation of aquatic life and the Namami Gange project is helping a lot in this. The CM said that earlier 14 crore litres of sewer used to be released into Ganga river in Sisamau of Kanpur every day, whereas now not even a drop falls due to the Namami Gange project. "Now the place where the sewer fell has become a selfie point. Similarly, due to the discharge of leather industry waste in Jajmau, aquatic creatures had become almost extinct. However, now a large number of aquatic creatures have started appearing in the river.
Speaking about dolphins in Ganga, the Chief Minister said that the government has selected the area of ​​Nishadraj, a dear friend of Lord Shri Ram, for its conservation. The Chief Minister said that now dolphins have started appearing in Ganga in Kashi too, assuring of all possible steps for the conservation of dolphins.
Chief Minister Yogi Adityanath also directed the Forest Department to set up a separate cadre of veterinary officers for the treatment and protection of wildlife. Minister of State (Independent Charge) of Forest, Environment, Zoological Park and Climate Change Department, Dr. Arun Kumar Saxena and Gorakhpur MP Ravikishan were also present on the occasion. Saxena said that the government would soon start the facility of jungle safari in Sogibarwa of Maharajganj.
It is worth mentioning here that CM Yogi inaugurated the Gorakhpur Zoo on March 27, 2021.